2019 Coworking Statistics for Toronto

In relatively short order, coworking has essentially transformed the way people work. By providing choice, flexibility and affordability, it has enabled millions to start their own businesses, grow an existing company or simply work on their own terms. In fact, coworking has fundamentally disrupted the commercial real estate sector globally. Predictably then, in light of Toronto's historically low downtown office vacancy rate, this global phenomenon is emerging as the ideal workplace solution locally.
Coworking has become the preferred workplace for a cohort that values agility and demands an enhanced work experience as they define it. By the end of 2018, approximately 1.7 million people worldwide had utilized a coworking space. As traditional commercial real estate options — with their inflexible leasing arrangements and sky-high rents — are proving ill-suited to meet the shifting demands of today's working community, coworking is a trend that is definitely forecast to grow.
As the statistics reveal, in Toronto as elsewhere, coworking is the new normal. Here are the key numbers for 2019 and beyond…
---
---
---
---
---
At a time when work can be done anywhere, anytime, 24/7 and even globally, the focus has shifted from monitoring output to measuring effectiveness. To that end, today's ideal office space is a flexible environment that is supported by the latest technology and allows workers to connect and collaborate with like-minded professionals in accommodating shared spaces. As the concept of work continues to evolve, coworking is a chance to be part of something significant.
Want to share or download this information? Use our sharable graphic below.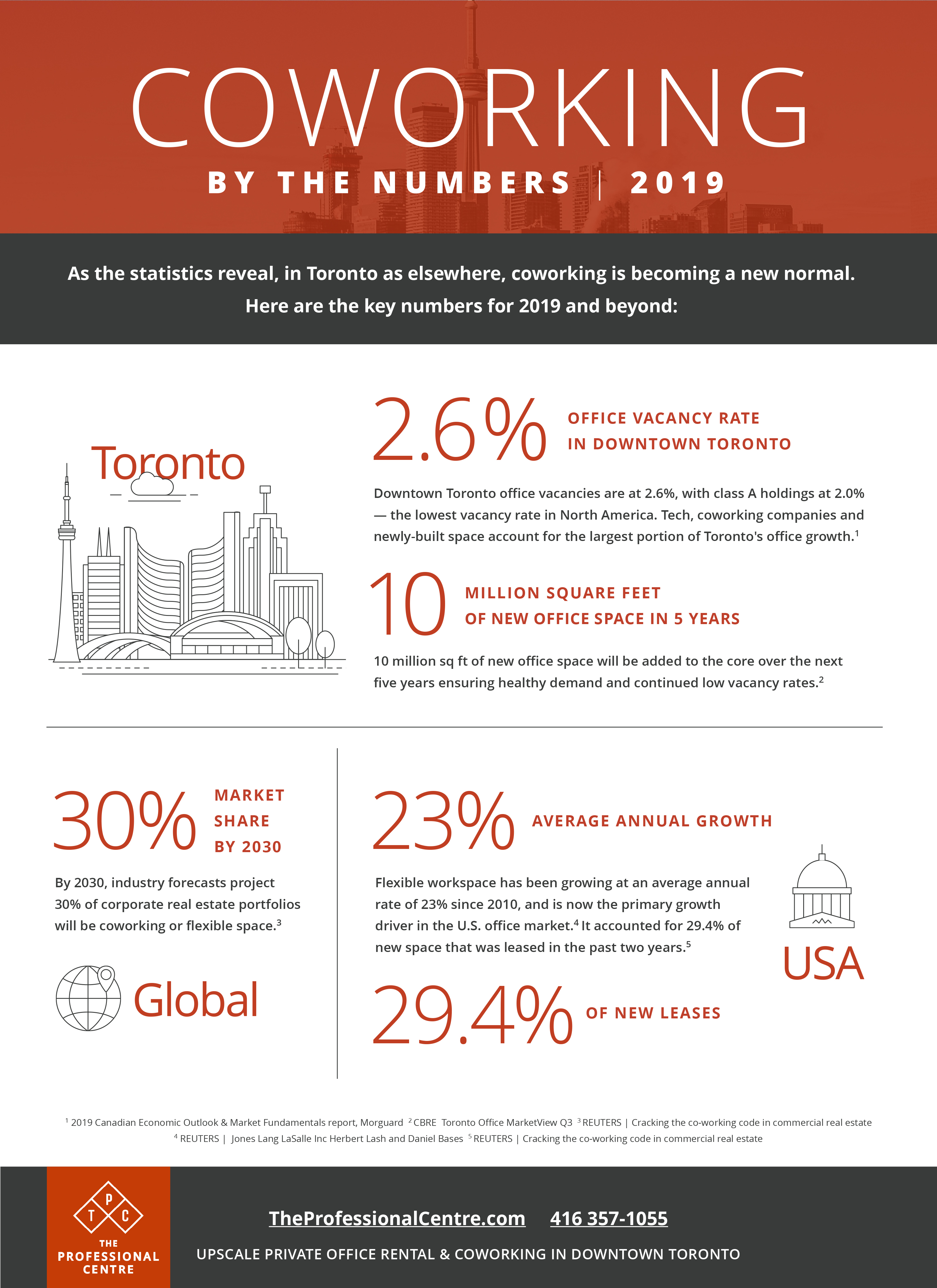 Download PDF of Coworking by the numbers
---
If you'd like more information on how our shared office space can work for your clients, call The Professional Centre today at 416-367-1055 or contact us.