5 Tips for Staying Productive in a Shared Office Space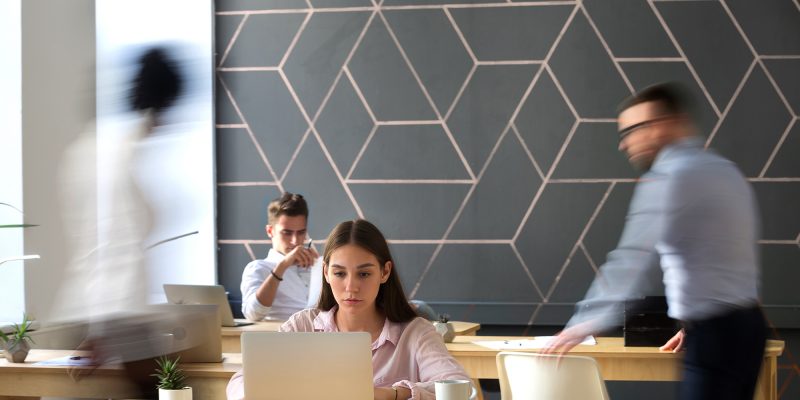 Shared office spaces have grown from a trend to changing the way companies do business. It increases collaboration and is a great source of creative ideation. But when it comes time for individual work, how do you optimize performance and reduce distractions?
Today, we're giving out simple tips for staying productive in a shared office space.
#5.  Ergonomic Office Furnishings
In too many of Toronto's shared office spaces, getting in late means getting stuck with the squeaky chair. You miss the update about the latest DVP closure and now you're stuck in a day of discomfort and annoyance. It's hard to focus and can affect your productivity.
In a truly productive shared office, the bad chair shouldn't even be an issue. Ergonomic furniture and furnishings have a direct impact on productivity. They keep your employees comfortable, allowing them to focus on the task at hand. 
As well, they help to preserve their long-term health. They make it easier to maintain posture and keep away those nagging aches and pains.
While the best-shared office spaces in Toronto provide ergonomic furniture, there is still more employers can do. For instance, providing ergonomic mouse and keyboard pads can help prevent wrist pain. As well, making sure to set up computer screens properly can greatly reduce neck pain.
Minimizing discomfort and pain allows you to maintain focus.
#4. Alternate Workspaces
Coworking spaces are fantastic hubs for collaboration and teamwork. But sometimes, having all those people around can be distracting.
It is important to have access to alternate workspaces. Whether moving away from distractions for solo projects or simply changing up the scenery, it's nice to have a secondary workspace.
An increasingly common solution is to allow employees to work from home. Flex options like having a couple of days a week as, "work from home" days are a great option. And they're a nice incentive for new hires. 
To get the most out remote working, check out our tips on upgrading a home office for productivity.
Of course, you don't want to have to head home every time you want a little privacy in the office. Most shared office spaces offer lounge areas. The spaces provide a comfortable workspace away from other distractions.
If you want even more privacy, you may want to consider the benefits of a private office. Private offices in coworking spaces let you benefit from the collaborative atmosphere while reducing potential distractions.
#3. Wellness Areas
Modern employers understand the benefits of hacking employee happiness. And those benefits are just as important whether you're a solo freelancer or running a business. As such, there's a growing demand for increasing wellness in the workplace.
Giving your employees a space to destress is good for their health and happiness, and ultimately, their productivity. It's why The Professional Centre includes a wellness room in our premium amenities. 
Shared office wellness rooms help you refresh and reset your mind throughout the day. It's a great way to get past that midafternoon daze. Refocus, reenergize, and reignite your mind.
#2. Declutter
Clutter is an underrated source of stress in the office place. It's easy to let things pile up or fall into disarray. A disorganized workspace isn't just a challenge to keep organized, it's also a major source of mental strain. There's a reason the minimalist lifestyle trend took off so fast.
According to Dr. Susan K. Whitborne, clutter can cause:
Low subjective well-being – making it hard to feel pride in your workplace

Unhealthy eating 

Poor mental health

Inefficient visual processing – the excess stimuli makes it hard to focus on what matters

Inefficient thinking
The mental impact of clutter has a direct impact on the productivity of your workplace. Some good tips for reducing clutter include proper file use, minimizing knickknacks, and choosing an office space with daily cleaners.
As well, it's worth regularly scheduling some time to reorganize your desk. Throw out the things you don't need anymore, and find more efficient places for growing stacks of items. Even cleaning up the folders on your computer's desktop screen can be cathartic (and may help it run faster).
1. Lighting
A well-lit shared office makes a big difference in your work. Good office lighting goes well beyond letting you see what you're doing. Big windows, with natural light coming through, helps to energize your mind. It helps you stay more alert, focused and creative.
When renting coworking space in Toronto, it's worth looking at their lighting situation. Today's workforce is looking away from flickering fluorescents. Their sights are set on the brighter, high-efficiency bulbs and as much natural light as possible.
Natural light releases endorphins, making for a more pleasant workday. As well, natural lighting improves:
Sleep Quality

Quality of Life

Workplace Activity
Poor lighting, on the other hand, has a negative, destimulating effect. It can reduce the quality of work, attentiveness, and cause eyestrain.
Proper lighting in your shared office makes for better work and a better office experience.
Find A Productive Shared Office Space in Toronto
The Professional Centre is dedicated to creating the best possible work environment. Our Toronto shared offices are found in the heart of the Financial District. We have premium amenities, ergonomics, and lighting in our coworking offices.
Book a private tour today and discover how TPC does coworking differently.