Are Headphones Bad for Shared Office Spaces | Toronto Coworking Tips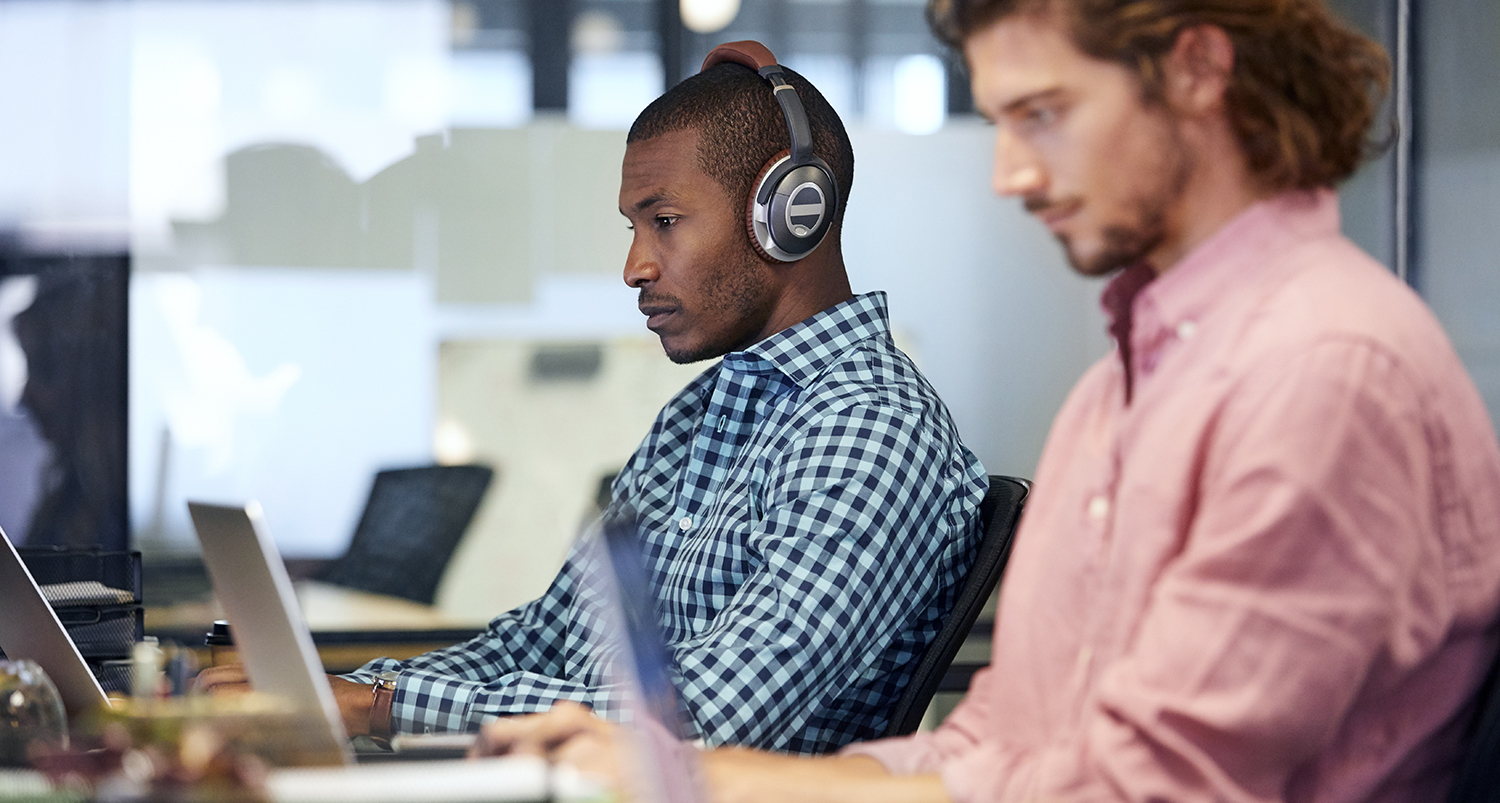 Headphones have become part of the unofficial uniform of Toronto's shared office workers. But in spaces designed for collaboration, are headphones putting back up the walls that coworking spaces tore down?
Many offices have converted into open plans or rent shared office spaces specifically to increase communication. So, what kind of effect does isolating equipment, like headphones, have on engagement and collaboration?
In this Toronto Coworking Tips article, we're weighing the pros and cons of headphones in shared office space.
Pros of Headphones in the Office
If you walk into just about any coworking space in Toronto, you'll find a sea of AirPods, earbuds, and over-ear headphones. At first glance, it can look like everyone is on their own island in an open space, but most employees are quick to defend the use, and they have some strong points.
Concentration
With so much going on, it can be easy to lose focus in a shared office space. When you're struggling to concentrate, you can't close a door and shut the world out. Headphones, however, offer an easy solution.
Throwing on your headphones and putting on some music or relaxing sounds can have powerful effects on concentration. According to a Stanford study, "Music moves [the] brain to pay attention."
Listening to music while focusing on a task has several benefits, especially with improving focus. It can also help with relaxation and memory.
The type of music has a significant impact. Different types of music can have different benefits. For instance, in the Cambridge Brain Science study Psychomusicology: Music, Mind and Brain, it was determined that low arousal, negative music has the best memory performance.
For improving concentration and productivity, the best options are classical music and EDM music. However, the most important factor is listening to music that you like. Music that you don't like is distracting.
Do Not Disturb
In a coworking office, you're always available. This is good most of the time, maximizing your ability to engage and collaborate. It's very team-friendly, but it's not always individual-friendly.
Being constantly available can be a challenge when you need to buckle down and hammer out some individual work. For some, this constant openness can lead to some stress. In both cases, headphones act as instant relief.
Wearing headphones in a shared office space is a visible "do not disturb" sign, letting your coworkers know you're busy and don't want to be disturbed. If you are immediately needed, people can still access you, but most people let you get on with your work.
Block Out Distractions
Walls are bad for teamwork and collaboration. But what they are good for, is blocking out distractions. In an open office space, it's easy to get distracted by other conversations and happenings.
From time to time, distractions can be a nice mental break. But if they happen all day long, it's hard to get much done. It can be hard to get privacy in a coworking space.
Once again, this is where headphones come to save the day. Throwing on your headphones, especially noise cancelling or noise isolating ones are a great way to block out distractions. They can block out loud phone calls and help keep your attention from going too far outward.
Cons of Headphones in the Office
At risk of causing stirring up treble with the headphone wearers, there are some potential downsides as well.
They're Anti-Social
When a business decides to rent a shared office space or switches to an open office plan, it does so for a reason. They're counting on the proven collaboration and productivity of a coworking space. 
Putting on your headphones takes away from that atmosphere. It removes you from the community and detracts from team-building and open discussion. As good as they are for individual work, headphones are a detriment during collaboration.
They Can Be Distracting
The distraction argument cuts both ways for headphone use. Some music or ambient sounds can have benefits, increasing focus and promoting calmness. But that's not all we listen to on headphones.
While there are lots of types of music that can run in the background, ebooks and podcasts are becoming increasingly popular. As titillating as it is to catch up on the latest serial killer podcasts, they aren't doing anything to improve your concentration, productivity, or attention.
So, are Headphones Good for Coworking?
Really, it comes down to how you use them. There's a lot of potential benefit to using headphones in a shared office space. Still, if you wear them all day, you lose valuable aspects of the teamwork and collaboration that makes coworking so powerful.
Sticking to music over podcasts or ebooks, and not keeping your headphones on all day, can help you remain a productive, engaged, and focused member of your team.
Find Shared Office Space Rentals in Toronto
The Professional Centre is a premium shared office space in Toronto's Financial District. Our spaces are fully equipped with meeting rooms and services to meet the needs of any business.
Book a tour today and discover the TPC difference!