Why Any Company Can Benefit From Renting Meeting Venues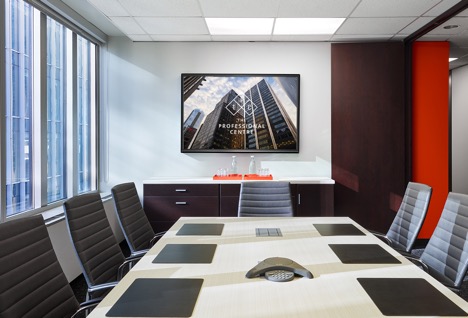 Disney, Microsoft, Amazon, Google: Some of today's biggest business empires started in garages.
Everyone loves the story of humble beginnings leading to undeniable success. But garages don't inspire confidence in the people new businesses need to impress. And you can bet that's not where they met with investors & clients.
From start-ups with big dreams to enterprises with multiple offices, any company can benefit from renting professional meeting rooms. We take a look at some of the reasons all sizes of business are renting meeting venues:
Professional Setting
First impressions matter and top-quality meeting venues are a great way to impress clients. Up-to-date technology allows for seamless powerpoint presentations, conference calls, and webcam connections. There's no more fumbling with technology or jerry-rigged presentation tools in presentation and boardroom meetings.
Businesses with no, or underwhelming, meeting rooms can set a professional tone by renting. In many offices, the meeting venues are old and out-of-date. The designs go out of style and the technology falls into disrepair or is outpaced by new trends.
Rental meeting rooms, on the other hand, are always kept updated. They need to satisfy the needs of the modern company. As such, coworking spaces refresh their meeting venues with modern designs and the latest technology. Even established enterprise companies benefit from coworking meeting room rentals.
This is especially appealing to companies who've been in the same location for a long time. Boardroom rentals allow them to put their best face on with new clients, investors, and partners.

Location
When booking a meeting, location matters. When meeting with multiple parties coming together, it's good to find a meeting spot in a central location.
The challenge is that desirable business locations, like the Financial District, are in short supply. Costs are high and availability is low. Finding business space for rent in these areas is hard for companies. Fortunately, coworking spaces offer rental meeting rooms that satisfy this need.
Our Adelaide locations offer meeting rooms in Toronto's Financial District. With spaces on the 24th and 25th floors, these boardrooms give an impressive image for companies of any size.
For companies that work out of town, boardroom rentals are another great option. Teams can gather while visiting for conferences, or businesses can meet in a more accessible location. This is especially useful when a company already has to visit the city to meet with other partners.
Internal Meeting Rooms Fill Up Fast
Last minute meetings can be tough to book. In most offices, meeting rooms fill up fast. If you need to move around meeting times or don't book far enough in advance, you might be stuck in a coffee shop.
When you need an extra place to meet, meeting room rentals aren't just a lifeline – they're an upgrade. They're cleaner, run smoother, and your booking times are guaranteed.
An overflow of meeting room bookings isn't the only reason to look outside of your office building. Room sizes should match the number of people going to the meeting. Too small of a room is cramped and uncomfortable. Too large of a room, and it feels empty and unprofessional – like a child in an oversized suit.
Toronto coworking offices, on the other hand, have a variety of meeting venue sizes to keep you in the Goldilocks zone. For meetings in groups of 4 to 20 people, there are three different room sizes. So you can choose the one that's just right.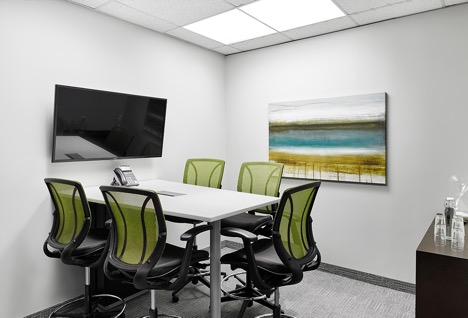 Coworking meeting rooms are a better alternative to hotels. Hotel venues are often oversized, overpriced, and are less inclined to cater to smaller meetings. For meeting room rentals of 20 people or less, hotels are a poor substitute.
Book a Meeting Venue in Toronto
With a variety of room sizes available and rates on a per hour or per day basis, The Professional Center has the right room for you. Our Toronto meeting venues fill up fast so contact us to request a meeting room today.