Benefits of Short-Term Office Rentals in Toronto
In major cities like Toronto, the typical office rental is long term. Companies are shoehorned into all-or-nothing commitments. This causes challenges for companies of all shapes and sizes. As a result, more companies are turning to alternative workplaces and coworking offices to take advantage of short-term rentals.
In this article, we take a quick look into the key benefits of short-term office rentals in Toronto:
Lease Length
Major cities are a big draw for businesses. Cities like Toronto offer greater opportunity, more prestige, and proximity to clients and businesses. But with all their benefits, these big cities have one big drawback when companies are looking for space. Long lease times.
The average office lease in large cities is 5-10 years. That's a long time for companies to commit to. It takes away from the ability to test a market and provides challenges for scaling up or down.
Even more so, long leases can prevent companies from being able to find business space for rent. Companies need to have a strong financial covenant to be able to lease long term. If it puts too much stress on their debt to working capital ratio, they may not be able to operate.
Toronto coworking offices provide short-term and month-to-month office rental agreements. These provide more opportunities to companies that are unable or unwilling to sign 5-10 year leases.
Unsure Growth Plan
Companies that are unsure of their growth plan are generally more comfortable with a shorter lease. The market is hard to predict, so making a longterm growth plan is a challenge. There is a reason companies typically make their marketing and financial plans with quarterly or yearly timelines.
If you have to look as far as 5 to 10 years down the line to create your growth plan, there's a lot of uncertainty. That's plenty of time for new opportunities, cultural shifts, and/or disruptive technology to completely change your plan.
For newer companies, long term growth plans are uncertain. So more flexible options, like coworking spaces, are a preferable option. Even enterprise companies are moving to coworking offices.
Short term-office rentals give you the ability to plan your space around your growth plan, instead of the other way around.
Costs
Plain and simple, coworking spaces offer access a full suite of office capabilities and comforts at a fraction of the cost. And beyond that, their pricing reflects the current market. Right now, the average cost business space for rent in Toronto is at an all-time high. In long term leases, a company who signs on today is stuck at that high rate for up to a decade.
If the bubble bursts, as predicted, that means anyone with a long term lease is overpaying for their space. Meanwhile, short-term office rentals are more reflective of the market since they are updated more often. As a result, you're always paying a fair price for your office space.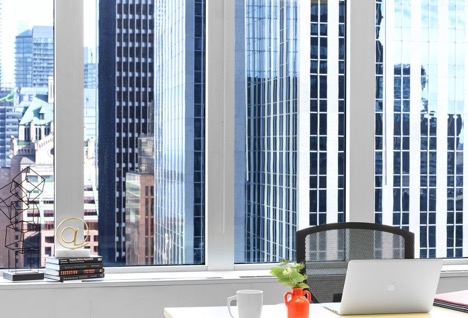 Agility
Short-term office rentals in Toronto keep your business agile. In a coworking office, you can add or remove desks as necessary. That means you can scale up or down rapidly in accordance with your needs. You don't have to pay for space you don't use, and there's no wait to grow.
As well, it gives companies the opportunity to test a market or a location. It can even add flexibility in addition to existing office space. Allowing companies to create satellite offices, hire remote workers, or rent high-quality meeting venues.
As well, people are not limited to one type of office. In a traditional space, you go with cubicles, offices, or open spaces. If there is any desire to change, it takes a massive (time-consuming and expensive) redesign. With coworking spaces, companies can choose between open and private offices, and can easily switch from one to the other.
Seasonality
In some businesses, rapid, temporary growth is sometimes necessary. For example, in any seasonal business, you need more personnel during peak periods of the year. A short-term lease makes this economical.
In a traditional lease, companies need to pay year-round for space they only need at their peak. With short-term office rentals, you can avoid paying for space you don't need, increasing spaces and services on-demand.
Consider A Short-Term Office Rental in Downtown Toronto
Short-term office rentals, like those found in coworking spaces, adapt to the modern realities of business. To discover more flexible, cost-effective, and forward-thinking business space for rent in Toronto, consider coworking spaces.
Book a tour today at our prime coworking location in the Financial District.