Not Just Startups: Enterprises Are Moving Into Toronto Coworking Spaces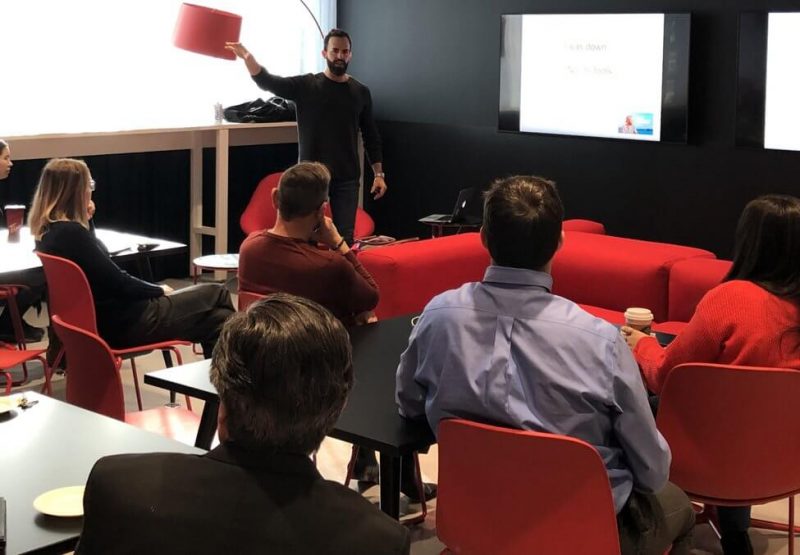 In the initial explosion of coworking, spaces were rented by students, startups, and freelancers. The goal was to move in, grow, and move into your own space. But now, just a few years later, it's not just startups in Toronto coworking spaces.
It's a popular coworking myth that these spaces are just for small companies. In reality, the big guys are moving into shared offices at a rapid pace. Established companies and major enterprises are seeing the benefits of coworking and jumping on board.
In this article, we explore why banks and enterprises are searching for coworking space in Toronto.
Why Enterprise Companies Are Moving Into Coworking Spaces
Cost & Availability of Renting Business Space
Finding office space in Toronto is a challenge for any size of business. Market research shows that Toronto once again has the lowest vacancy rate (1.6%) of the top 10 North American Central Business Districts.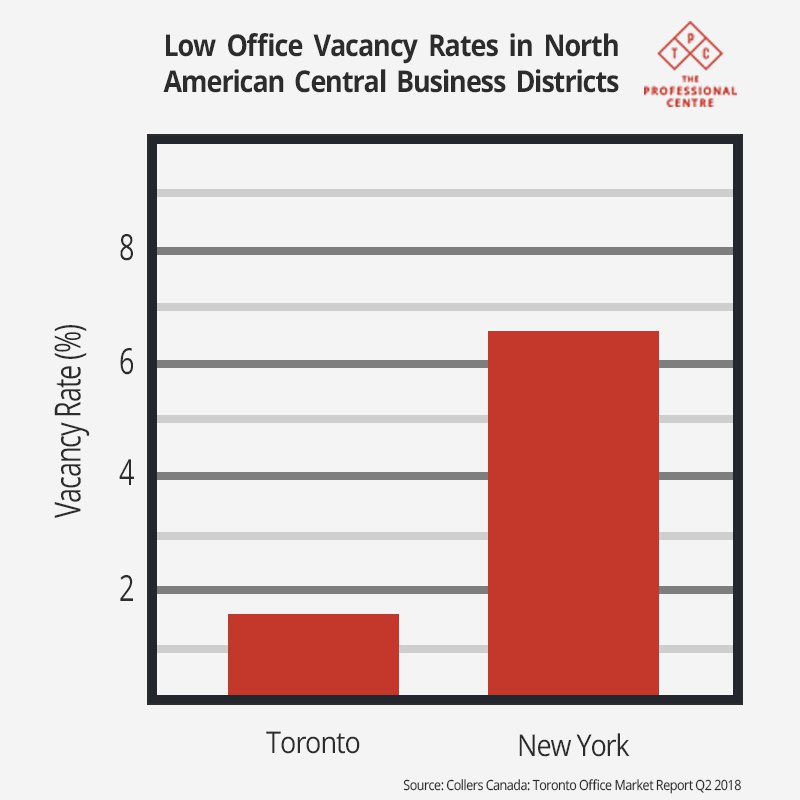 The low vacancy means there's not a lot of availability in business space for rent. It's especially challenging for large companies who need more space. It's even harder to be pickier about the location.
Even if the ideal space is available, low-vacancy and high-demand mean the costs are high. Anyone who lives here already knows, Toronto is not a renter-friendly market. Higher rents mean lower profits.
Coworking spaces in Toronto allow enterprise companies to find space at more reasonable prices.
Satellite Offices
Companies that already have their own space are turning to coworking spaces for satellite offices. For companies already in the city, coworking spaces offer low-cost office space for staff who don't need to be in the main office.
Marketing teams, web development, and accounting departments are just some examples of staff that are often in coworking satellite offices.
For companies based outside of Toronto, using coworking space for satellite offices is a great option. They allow companies to enter or test a new market faster, with a lower cost and less commitment.
Overflow & Rapid (or temporary) Expansion
In the modern world, things move fast. As companies often need to scale up rapidly, it's not uncommon to see offices overflow. With the scarcity of business space for rent managing overflow and expansion is too slow and expensive via the traditional approach.
Coworking spaces resolve this issue. They provide ready availability, often in close proximity to the main office. It's a much more agile option, allowing businesses to move in quickly.
They're also a great option for temporary expansions since contracts are much shorter term than traditional office rentals.  

Meeting Rooms & Amenities
High-quality meeting room rentals are in demand for businesses of all sizes. Even offices with their own meeting spaces are seeking out rentals.
The meeting rooms in coworking spaces are available in all sorts of sizes, fitting for meetings from 4 to 20 people. This allows the flexibility to rent a space that is more fitting to the size of your meeting.
They are also technologically advanced with presentation screens and whiteboards. Shared office meeting rooms boast a series of amenities that may not be found in a company's own office. The designs and layouts also make them much more appealing alternatives to hotel meeting rooms.
As well, many large companies often find that their own meeting rooms are overbooked. Rentals allow more flexibility, so they don't need to schedule around in-office availability.
Companies that use these rentals frequently will often sign up for coworking spaces, to take advantage of better rental rates. As well as access to their other amenities.
Location
It's hard enough finding business space for rent in Toronto. But locking down office space in the most desirable districts is even more challenging. A business' location has a big impact on its image and convenience. Banks, for instance, want space in the financial district, where most meetings happen.
Coworking spaces in the financial district make it easier to rent business space in a competitive area. The spaces are well-designed and on high floors. Although they're an affordable option, they don't look cheap. Instead, they're a good way to show that your company is modern, professional, and agile.
Short-Term Lease
Renting office space in Toronto often means signing a 5 to 10-year lease. For many businesses that's a long commitment. Especially for companies that are unsure of their growth needs. Will they still need this space in 5 years? Can this space fulfill their needs after 10 years of growth?
Coworking spaces keep companies more agile, with the ability to sign 6-month or 1-year leases. That means they can scale up or down as needed, always matching their current needs. More flexible lease terms take the guesswork out of your rental needs.
Creative Atmosphere
Although coworking spaces are professional, they break away from the mould of traditional offices. Their collaborative design and creative atmosphere promote productivity and workplace satisfaction.
These spaces attract better talent and maintain an engaged, healthy workforce. As well, they've been shown to improve workplace wellness by increasing work satisfaction.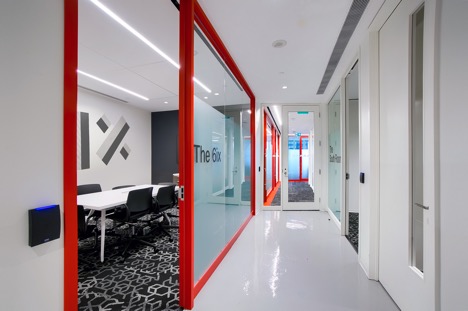 Really Well-Designed Space
For any company, big or small, image is important. As such, a well-designed space says volumes about your business. Coworking offices prioritize design to boost your business' productivity and professional image.
They are already furnished so companies move into a ready-to-use space and don't need to worry about buying furniture or hiring designers.
For meeting rentals or daily office use, the professional design of shared office spaces makes them ideal for any business.
Book a Tour of Toronto Coworking Spaces
Although coworking offers better availability for Toronto office space, the best locations are filling up fast. Book a tour today and discover the benefits of coworking in Toronto.