How "Generation Flex" is Powering the Growth of Coworking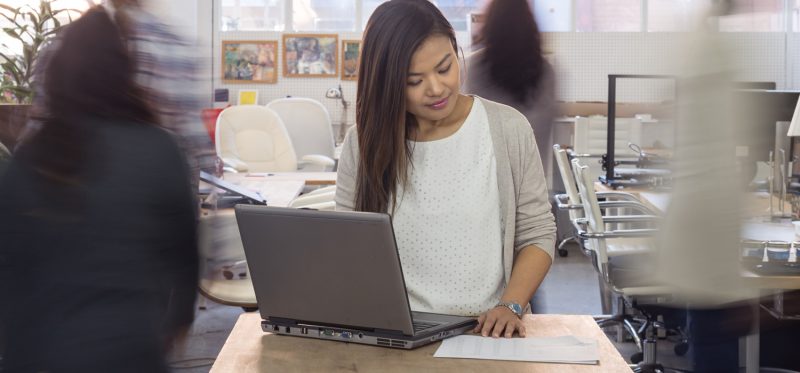 As the worldwide proliferation of coworking spaces continues apace, the key findings from International Workplace Group's (IWG) 2019 Global Workplace Survey "Welcome to Generation Flex – The Employee Power Shift", reveals some of the major trends driving growth in the sector.
In Toronto, as is being seen globally, coworking is definitely the new normal as flexible workers and more Canadian companies, large and small, recognize and appreciate how coworking's agility and flexibility can benefit their employment or businesses.
The IWG survey — which canvassed over 15,000 business professionals in 80 countries — revealed that 62 percent of firms internationally indicated that they now have policies related to flexible work. These policies have been implemented as a result of worker demand as over 50 percent of those polled reported working outside of the company office for at least 2.5 days a week. The IWG survey found that "more than half of global business people place so much importance on location that they regard it as more important than working for a prestigious company, while almost a third think it is more important than a prestigious role."
The Top Five Benefits of Coworking in 2019
1. Attracting and Retaining Talent
With the Canadian jobless rates hovering below 6 percent, and candidates essentially demanding flexible work arrangements, coworking has become an excellent strategy for both attracting and retaining highly-desirable talent. Significantly, coworking also facilitates a company's ability to seamlessly hire top talent in different locations without securing dedicated office space, which drives company growth and profit.
83%
of the IWG survey respondents indicated that the ability to incorporate flexibility would positively inform their choice when choosing between similar job offers
70%
of IWG survey respondents reported that "choice of work environment plays a key role in evaluating work opportunities"
---
2. Increased Productivity
85%
believe that their business has become measurably more productive because of flexible working, according to IWG survey respondents
67%
of the IWG survey respondents believe that workplace flexibility can improve productivity levels by at least 20%
Extensive research supports the clear advantages of coworking as it relates to productivity over the use of a traditional office. According to global research by Deskmag and Deskwanted:
74%
of coworkers are more productive
86%
have a larger business network
93%
have a larger social network
33.3%
reported an increase in income
---
3. Greater Agility
Coworking enables companies to scale up quickly, especially in new markets, with minimal logistics. Companies can explore inroads into new regions without the incurring the risk associated with traditional leasing. One-off projects can be undertaken minus major overhead costs. Coworking workspaces allow companies to improve agility and scalability via the provision of shareable workspace, technology, and administrative support. Companies, regardless of size, recognize the agility that coworking allows.
Only 24%
of businesses reported that the rental costs for coworking spaces would be perceived as an issue when compared to the perceived benefits, according to IWG respondents
---
4. Improved Work-Life Balance
Coworking offers great opportunities for networking, idea exchange, business development, as well as socializing which leads to higher levels of job satisfaction. In turn, this manifests as an improved work-life balance. Additionally, when workers control where they work, they report combining their personal and professional lives is less challenging. As an example, coworking can often enhance work-life balance via a reduced commute.
Two out of Five
workers cited commuting as the "worst part of their day", IWG found
75%
of companies surveyed reported that they are introducing flexible working in order to reduce staff commute times
---
5. Lower Overhead
Coworking definitely makes solid financial sense! By allowing individuals, including freelancers, contract employees, entrepreneurs, along with small businesses — especially when first starting out — to share the expenses associated with a workplace, coworking demands significantly less of a financial investment. While start-ups and flexible workers were once the typical coworking client, tellingly, larger businesses and established corporations seeking to cut costs and add agility, are increasingly signing on for the coworking immersion.
65%
of businesses say coworking workspaces reduced capital expenditures and/or operating expenses while improving risk management, according to the IWG survey results
---
Coworking in 2019: The Takeaway!
Beyond fulfilling workers' demands, flexible working as enabled by coworking, is measurably good for the economy. A recent report estimated that by 2030, "the US could see an economic boost of as much as $4.5 trillion annually from flexible working, while China and India could gain respectively $1.4 trillion and $376 billion extra annually." As coworking has grown from a small movement into a global phenomenon, so too has its potential to positively impact the lives of the workers it serves. 
---
You can discover an exceptional coworking office experience at The Professional Centre (TPC), the Toronto coworking space where more is standard. If you'd like more information on how our shared office space can work for your business, call The Professional Centre today at 416-367-1055 or contact us.