Nonprofits and Coworking: A Dynamic Synergy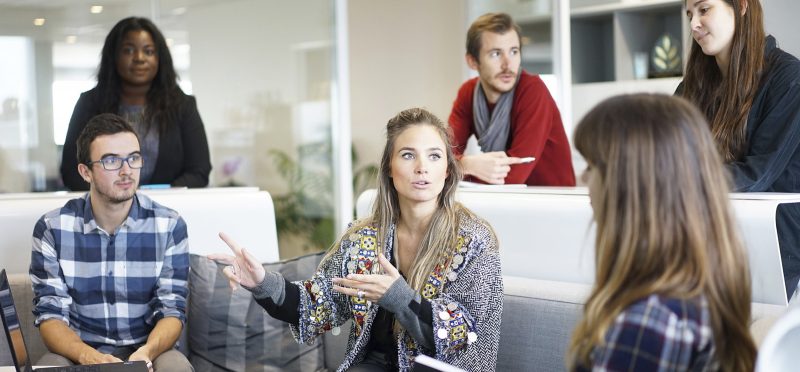 Coworking has definitely moved into the mainstream with outstanding locations found in many cities globally including Toronto. The now-broad appeal of coworking spaces goes well beyond merely serving as an option for individuals/organizations looking for an affordable place to work. In fact, coworking is actually shaping the way people conduct business and further, positively impacting the level of satisfaction they derive from their work.
The Harvard Business Review confirms coworking has much to offer and indicates that coworkers report levels of thriving that approach 6 on a 7-point scale, which is a full point higher than claimed by those working in traditional office settings. All of which begs the question, is there a lesson here for nonprofits?
The short answer… Whether newly-formed or an established fixture in the communities they serve, coworking offers nonprofits specific opportunities that a traditional office setting simply does not. Here's an overview of some of the relevant features…
The Future is Now and it's Coworking
Globally the number of coworking spaces has exploded in recent years and the sector's growth shows no signs of slowing. Market researchers predict that there will be well over 21,00 coworking spaces worldwide by close of year 2019. The segment is projected to grow an additional 43 percent between now and 2022.
The massive expansion is expected to be driven in part by a global shift that has seen corporations forgoing traditional workplaces in favour of more agile workspaces with flexible lease terms.  As with these corporate entities, coworking is proving equally strategic for nonprofits. Workplace agility and the more affordable rental rates are the primary reasons routinely cited by nonprofits for choosing a coworking model.
Coworking Encourages Collaboration
Looking beyond the benefits of a fully-equipped and centrally-located physical workplace, coworking workspaces also deliver community and engagement. While the level of desired interaction ultimately rests with the individual tenant, relationship-building and networking is a natural offshoot of regularly interacting with discrete individuals and organizations in a coworking space. Be it the camaraderie inspired by working in close proximity to other professionals or the fellowship resulting from connecting in the shared public areas, these inter-organizational exchanges can prove hugely valuable.
These organic exchanges can also amplify a nonprofit's impact in ways that extend beyond the obvious. A 2017 survey revealed in excess of 70 percent of respondents working in coworking spaces collaborated with other members in the past 12 months.  Given how the power of social media now augments the effectiveness of word-of-mouth, engagement with coworking peers can spark new ideas and even drive greater awareness of a nonprofit's core mission. Collaboration that involves sharing concepts, and even resources, allows nonprofits to innovate and potentially accomplish more than they could on their own. 
The Bottom Line
By providing access to an engaging community along with necessary infrastructure — including premium and/or customized workspaces, central locations, state-of-the-art technology, administrative support — that is measurably more affordable as it is prorated among all tenants, coworking spaces have become a solid choice for nonprofits. Through the reduction of fixed costs and the elimination of distracting concerns about basic functions such as IT and office maintenance, nonprofits are left in a demonstrably better position to focus on their core mandate.
Additionally, ongoing research suggests that coworking's marriage of a highly-functional work environment and a thoughtfully-curated work experience drives the higher levels of thriving that coworkers demonstrate when contrasted with their traditional office-based counterparts. Coworking also enables higher levels of worker autonomy, while still providing desirable structure, which in turn encourages greater productivity. As nonprofits often operate with tightly rationed resources, they are in a unique position to benefit exponentially from any improved efficiency.
Finally, given that a social mission is very often the foundation for many nonprofits, coworking spaces offer a natural synergy as in both cases, the emphasis is on building strong communities, cultivating collaborative opportunities and identifying the most efficient use of shared resources.
Top 10 Coworking Benefits for Nonprofits
1. FLEXIBLE SPACE SOLUTIONS

Coworking provides move-in-ready, agile workspace solutions for teams of any size.
---
2. COST-EFFECTIVE

With lower rents, no upfront costs and flexible lease terms, coworking is an affordable option.
---
3. PRIME LOCATIONS
With over 20,000 coworking spaces worldwide, there are many options available in every city.
---
4. COMMUNITY BUILDING
Relationship-building and networking are natural offshoots of the coworking experience.
---
5. SUPPORT SERVICES
Many coworking offices offer professional in-house administrative and technical support.
---
6. HAPPIER WORKERS
Access to collaborative spaces and community interactions are shown to improve well-being.
---
7. FULLY EQUIPPED
Coworking spaces come fully furnished and equipped with state-of-the-art technology.
---
8. ACCESSIBLE & SECURE

Most coworking spaces are fully secure and accessible 24/7 and 365 days a year. 
---
9. MEETING SPACES
Coworking spaces typically provide dynamic meeting, conference and/or event spaces.
---
10. PREMIUM AMENITIES
Most coworking spaces offer access to a lounge and kitchen, coffee service and water.
---
Today's ideal office space for the nonprofit organization is a flexible, cost-effective environment that is supported by the latest technology and allows workers to connect and collaborate in accommodating shared spaces.
You can discover an exceptional coworking office experience at The Professional Centre (TPC), the Toronto coworking space where more is standard. If you'd like more information on how our shared office space can work for your organization, call The Professional Centre today at 416-367-1055 or contact us.