Shared office space – It's not only for millennials!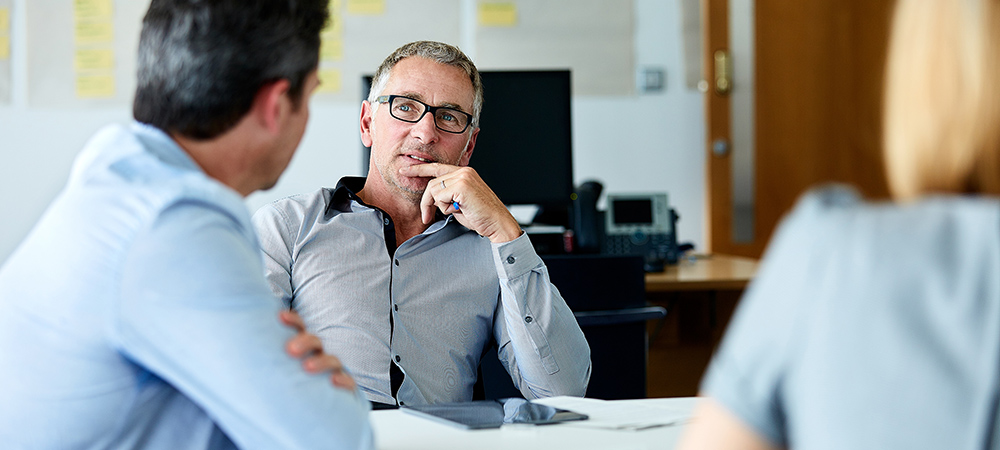 According to the most recent census, the baby boomer generation represents close to 3 in 10 of all Canadians. That's 9.6 million people either at retirement age or nearing it. But, this generation aren't all giving up work or settling into babysitting the grandchildren – many are choosing to stay in the workforce or even start up new businesses. In their bid for success, risk-adverse boomers are turning this this mid-life transition period into thriving businesses, and taking advantage of their new found freedom to follow dreams
Moving (office) with the times
While boomers are leaving behind the inflexibility of their old job in favour of independence and autonomy, they still want access to all the conveniences the traditional office afforded them – professional working environment, board rooms for presentations, office equipment and support staff etc. But while these 'seniorpreneurs' may have carved out their careers when big corner offices and name plaques were a sign of success, they are still smart enough to embrace today's trend of shared office space.
The evolution of work
One of the biggest influences of this shift in working is the emergence of millennials in the professional world. They have grown up on a diet of collaboration and integration – becoming entrepreneurs, launching start-ups and building companies. Their expectations of where they work have seen a culture of more flexible, imaginative and innovative office spaces that also caters to their social requirements.
This less traditional way to work represents one of the fastest-growing workplace shifts visible in the last decade. As new technologies become available, multi demographics of the labour market have the ability to do more online and, with such a rapid growth in many major Canadian cities, companies are seeking the flexibility of shared and coworking spaces.
Now seasoned entrepreneurs are flocking to join this style of working because it supports their present business needs in a more individualized way. Millennials may have started the trend, but boomers realize that sharing their space in today's work place can reap real rewards.
Ways boomers are benefitting:
Low overheads
To lease decent office space comes at a price – usually a hefty one! Any location worthy of putting on your business card will put a big dent in your bottom line. If you go the other way and rent cheaply, the investment may not give a professional view of your business and misrepresent the service or product you provide.  Shared office spaces offer a cost-effective solution to renting somewhere modern, stylish and professionally designed in the location you want.  What's more, you won't even have to figure in moving expenses as part of your budget.
Equipped for business
As well as being visually appealing spaces to work, boomers are making the most of these turnkey office solutions, stepping in to fully equipped workplaces that include internet, phone, printers, copiers and white boards etc. Without investing in the time and cost it takes to purchase furniture and equipment, members are gaining access to everything they require to run a successful business.
Book when you need
Many businesses don't require office space every day, or even every week, so why pay for it? A 10-year lease can set a company back hundreds of thousands of dollars. Boomers have found an opportunity that fits around these needs. They lease shared space when it suits them, with packages that include the option to rent coworking/private offices, meeting rooms and boardrooms for a day, a month or more.
Support all round
From receptionists to admin assistance and bookkeeping to IT support, your business is fully backed up by a team of in-house professionals. No more answering your own phone calls while eating lunch or turning your printer off and on again in the hope that it finally prints that important presentation! Membership to shared office space comes with full use of these services whenever required. You can get on with running your business, without the inconvenience, responsibility and cost of repairs and managing staff (training, hiring, sick days and vacation etc.).
Networking neighbours
Modern technology may give us the ability to communicate with clients, customers, suppliers and other stakeholders globally 24/7, but boomers already understand that nothing beats networking with the person sitting right next to you. Shared office space introduces you to dozens of other professionals from both similar and different demographic backgrounds who you may not meet otherwise. What's more, the people also sharing your space will constantly change, opening up even more potential business connections. According to a smallbizlabs.com survey,  82% of participants said coworking has expanded their professional networks and 80% said they turn to other coworking members for help or guidance.
Environmental success
Of course, having your own business gives you flexibility in your day. With no 9 – 5 or long commute to adhere to, boomers are choosing the work/life balance they want. While some are working remotely from home, others are quickly catching on to the fact that this isn't necessarily the best option. It might be a nice idea to put together that business proposal from your couch or talk to a client in your sweatpants, but is it a little too comfortable? Shared office space gets you motivated, back into an inspiring work environment and puts the structure and human interaction back in your day.
A space designed for everyone
Whatever kind of workspace solution you're looking for, there's a wide range of options to suit. Whether it's a private office for an individual,  a coworking arrangement for a small consultancy start-up, or just a meeting room required occasionally etc., shared office space offers endless advantages to every demographic in today's marketplace.
---
If you'd like to find out more information on how shared office space can work for you, call The Professional Centre today at 416-367-1055 or contact us.