Top 10 Reasons to Bring Your Business to Toronto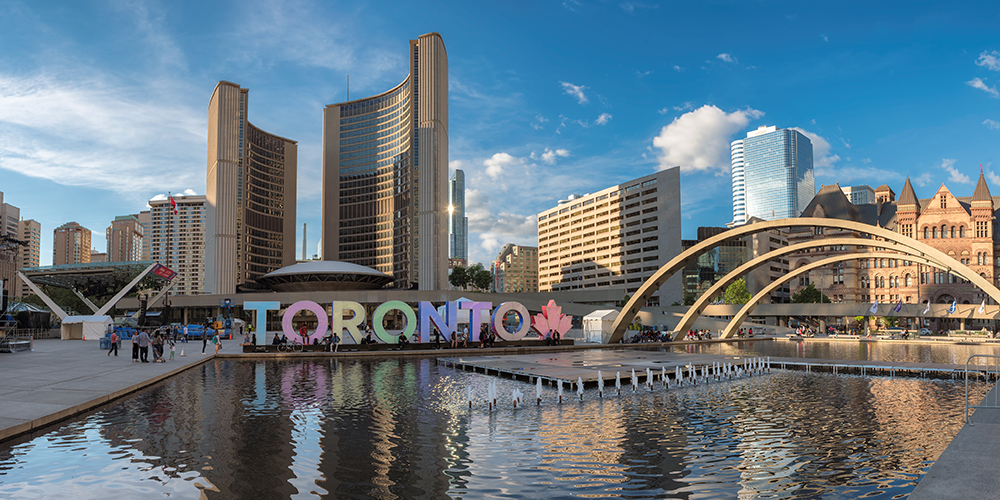 Choosing where to locate a business is one of the most important decisions to be made when planning a new venture. Since location can directly impact so many key aspects of how a company operates, it's just solid planning to choose wisely. Here's ten top reasons why Toronto is the right choice:
#10 – Globally Competitive
According to Forbes, Canada offers a top-five business-friendly environment among G20 countries. To earn the designation, the country was ranked on eleven different measures comparing business regulations across environments including factors such as innovation, taxes, technology and market performance. And the World Economic Forum's Global Competitiveness Index (GCI), which ranks 140 countries based upon 114 indicators that help determine productivity, reveals Canada's top 10 rankings in health, education and labour markets all of which favourably drive Canada's competitiveness. As Ontario's capital and the country's largest urban centre, Toronto is truly in the thick of it!
#9 – Highly-Educated Talent
According to the 2016 Census, Canadians, to include recent immigrants, are among the most educated populace in the world. At 67%, Ontario has the highest proportion of college graduates among developed nations.
#8 – Sustainability
The Sustainable Cities Index carried out by the Centre for Economics and Business Research (Cebr), ranks Toronto as North America's most sustainable city. Toronto secured a first-place finish in 'environmental performance' for all of North America and is ranked ninth globally. As business begins to grapple with the implications of environmental challenges and potential future impacts, it pays to do business in a city that gets it.
#7 – Size
Toronto is the fourth largest city in North America behind only Mexico City, New York City and Los Angeles. The most populous city in Canada and the largest urban and metro area, Toronto proper has an estimated population of 2.81 million while the Greater Toronto Area (GTA) claims a much larger population of 5.5 million. That spells access to a lot of customers, clients, and talent.
#6 – Competitive tax advantage
As recently noted by KPMG's Competitive Alternatives, a biannual comparison of business location costs across 100 cities in North America, Europe and Asia-Pacific, since 2012 Canada has improved its cost competitiveness over the U.S. by higher than 10%. Currently, Canada ranks first in the G7 for corporate tax rate and cost competitiveness, currently offering a 14.6% cost advantage over the U.S.
#5 – Quality-of-Life
According to Mercer's 2016 Quality of Living index, a study of 430 locations around the world, Toronto is second in the Americas. The multi-cultural and thriving commercial capital received high marks for factors such as personal safety, its educational system and economic environment. Toronto is consistently viewed as a safe and responsible place to live, work and do business. Those in the know, including The Economist, Metropolis Magazine, ECA International and many others frequently laud Toronto for its overall livability.
#4 – Headquarters
Success can often be an offshoot of the company you keep and since Canada's stable political and social environment continues to attract multinational corporations and their employees, in Toronto you'll be in good company indeed. According to Edelman's 2016 Trust Barometer, the well-regarded trust and credibility survey, companies headquartered in Canada are ranked the most trusted in the world with Canadian companies receiving a 66% approval rating.
#3 – Reliable Labour
Toronto has an abundant pool of talent and its labour force that is consistently categorized as among the most reliable in the world. AON Consulting's People Index Ratings ranked Toronto third out of 90 global cities, ahead of major centres such as London, Los Angeles and Hong Kong. AON reports Canada's strength relies on this critical area results from its commitment to strong labour laws, government-mandated health & retirement benefits, an absence of corruption and the availability of high-quality and comprehensive training.
#2 – Entrepreneurial Drive
When starting a new venture, success relies in part on being able to mobilize and capitalize on new ideas. Trading on that energy requires access to like-minded individuals who are equally committed to innovation and are navigating similar challenges. According to the Global Entrepreneurship Development Institute (GEDI). Canada is the second most entrepreneurial country in the world with its high rating reflective of the country's highly-skilled human capital and robust entrepreneurial abilities.
#1 – TPC's Shared Workplace Solution
Opening December 2018, TPC's (The Professional Centre) latest exciting coworking space is situated directly in the heart of Toronto's thriving financial district. The ideal location to establish a new venture, it offers incredible space that is thoughtfully designed and built by professionals for professionals. Melding an upscale esthetic with outstanding function and services, TPC's coworking office space will allow your business to secure an extraordinary workplace in Toronto minus the usual hassle associated with locating a space to set up shop. Delivering all the perks of a prime location without forgoing affordability, the money you can save cosharing is money you can use for additional investment and to finance innovation and growth for your company. Newcomers to Toronto contracting for TPC's latest cosharing space will also immediately benefit from access to a collaborative community and instantaneous local professional connections.
---
To fully explore our new location, click here. To learn about the many advantages that utilizing our coworking space offers, contact The Professional Centre at 416-367-1055 or please click here.