Business in Toronto: A City That Works!

Are you thinking of locating a business in Toronto? Consider a few of the many reasons Toronto is seen as an innovative and engaging place to live and work…
Toronto is Ranked Among the Very Best
What makes a city great? Likely there are as many answers to that question as there are cities…so good to know Toronto is ranked among the very best of the world's urban centres. It's actually routinely cited as one of the most livable cities in the world. In fact, the highly regarded Economist's Intelligence Unit's 2018 Global Livability Report — which assesses cities on 30 qualitative and quantitative factors across five broad categories: stability, healthcare, culture and environment, education, and infrastructure — placed Toronto (tied with Tokyo) as the seventh most livable city on Earth.
---
Toronto ranks #7 in the world for livability
The Global Liveability score: 100 = Ideal
97.2
Culture & Environment
---
While not without the stresses and strains that accompany big city life, in that same report Toronto nonetheless notched an impressive overall grade of 97.2 out of 100. Further, it scored a perfect 100 in the categories of stability, healthcare and education. But while these measures certainly offer an objective baseline against which to compare other urban centres, other less-tangible factors can elevate a city and get people buzzing…
Toronto is Diverse
With almost half of its population hailing from outside of Canada, Toronto serves as inclusive home to over 200 ethnic groups speaking in excess of 180 languages. As such, Toronto is regarded as the most ethnically diverse large city in North America and considered the most multicultural city in the world.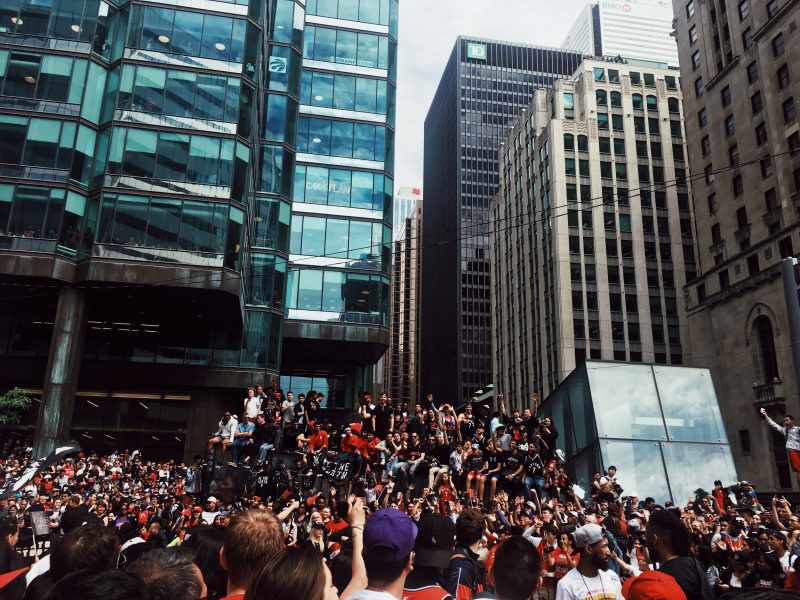 The city's genuine embrace of diversity was recently on full display when millions of enthusiastic fans flooded downtown Toronto for the Toronto Raptors 2019 NBA Championship victory parade. As Canada's national newspaper, The Globe & Mail reported, "Every background, every language, every country was represented on those packed streets – and no one gave it a second thought."
As the Raptor's parade so effectively illustrated, Toronto's multiculturalism is deeply woven into the city's fibre. It's fair to say it shapes the collective experience of the city having spurred the development of incredible neighbourhoods, inspired numerous ethnic festivals showcasing different cultural traditions and even enhanced the city's dining scene to the degree that Vogue Magazine stated it's a must-visit destination for foodies.
Toronto is Thriving
Along with its reputation as one of the most cosmopolitan cities in the world, Toronto has long been acknowledged as an international centre of business, finance, arts, and culture. In tribute to the city's forward-moving momentum, a report from analysts at U.S.-based Expert Market named Toronto among the top ten tech hubs in which to live and work. With a nod to the many incubators in town, Toronto is actually Canada's no. 1 start-up hub with approximately 3,000 tech ventures. These operate alongside a number of Canada's very own tech heavy hitters including Shopify, Hootsuite and Kik which all have a strong presence in the city.
It's not surprising to find the city serving as home-base for an industry that demands an educated, skilled workforce. Canadians are typically better educated than they were a decade ago and have some of the highest rates of post-secondary attendance in the developed world. These findings were released in a recent report Education Indicators in Canada, from the Council of Education Ministers, which analyzed a wide-ranging collection of data and included comparisons between Canadian numbers and those of 30 other countries in the Organization for Economic Co-operation and Development. With the city's ability to provide ready access to an eminently qualified workforce, North America's fourth largest city has an incredible future as one of the world's preeminent tech cities.
Toronto is Livable
Toronto is Canada's biggest city and living and working in the country's most populous centre does have its advantages. Looking beyond its celebrated multiculturalism and high-skilled workforce, Toronto boasts a great public transportation system, a thriving cultural scene that includes incredible museums, inspiring galleries, a world-class performing-arts scene along with a huge inventory of restaurants, clubs, cultural spaces, bars, breweries, bookstores and coffee shops that are hopping day and night!
As well, The Economist Intelligence Unit (EIU) 2017 Safe Cities Index saw Toronto ranked at 4th out of 60 cities. The study scrutinized four categories including digital security, health security, infrastructure safety and personal safety. Beyond its overall position, Toronto ranked high in Personal Security and Digital Security, ranking #5 and #6 respectively.
Also pretty validating, according to the Nestpick's 2018 Millennial Cities Ranking, Toronto ranks 5th of 110 cities for the best location for millennials to live and work. Toronto scored big marks in diverse categories such as the success of local start-ups, the food scene, attitudes toward immigration, personal freedom, and LGBT friendliness.
All in all, Toronto is an incredible environment offering a high-quality of life. With excellent employment opportunities, wonderful leisure and recreational options, a thriving cultural scene and public spaces that are accessible, safe and well-used, it's a city that works!
---
Locating a business in Toronto? Need a private or coworking office, or virtual office for your business? 
You can discover an exceptional coworking office experience at The Professional Centre (TPC), the Toronto coworking space where more is standard. If you'd like more information, call The Professional Centre today at 416-367-1055 or contact us.