Toronto and The Global Liveability Index 2019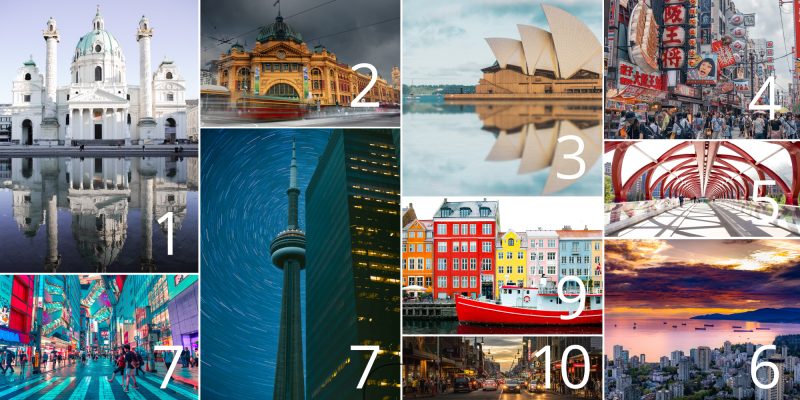 According to the just-released Economist Global Liveability Index 2019, Toronto is the seventh most livable city in the world (tied with Tokyo). Out of the 140 cities deemed most-liveable in the world, Toronto is holding steady at the same rank as last year. The highly-regarded Index is produced by the Economist Intelligence Unit — a division of The Economist Group which is the parent company of the respected magazine, The Economist.
A brief review of the methodology informing the Index reveals each of the 140 cities ranked is rated across five categories. Once reviewed, a city is then assigned a liveability score based on qualitative and quantitative factors within these groupings:
Stability: Analyzes the prevalence of crime and the threat of terror, military conflict or civil unrest
Healthcare: Considers the availability and quality of public and private healthcare, over-the-counter drugs and other general healthcare indicators.
Culture and Environment: Evaluates temperature rating; climate; level of corruption; social or religious restrictions, food and beverage along with other social components.
Education: Appraises quality and access to public/private education.
Infrastructure: Assesses roads quality, public transportation, availability of housing, and other related elements.
---
The ten most liveable cities

Rating is out of 100 with 100 being the best
Country
Austria
Australia
Australia
Japan
Canada
Canada
Canada
Japan
Denmark
Australia
City
Vienna
Melbourne
Sydney
Osaka
Calgary
Vancouver
Toronto
Tokyo
Copenhagen
Adelaide
Rating
99.1
98.4
98.1
97.7
97.5
97.3
97.2
97.2
96.8
96.6
Stability
100
95
95
100
100
95
100
100
95
95
Healthcare
100
100
100
100
100
100
100
100
100
100
Culture
96.3
98.6
97.2
93.5
90
100
97.2
94.4
95.4
94.2
Education
100
100
100
100
100
100
100
100
100
100
Infrastructure
100
100
100
96.4
100
92.9
89.3
92.9
100
96.4
---
Canadian cities dominated the Top Ten as Toronto, along with Calgary and Vancouver, was one of three designated Canadian urban centres. And as with its Canadian counterparts, the city excels in each of the areas that garner a high score on the Index… and guarantees a great environment within which to live and work. These include a well-funded, public-healthcare system, compulsory high-quality education, and a serviceable road and transportation infrastructure. The provision of these vital services is enhanced by a fully-democratic electoral system that is marked by low levels of corruption.
Reinforcing its Top Ten designation on the 2019 Index, Toronto offers a remarkable mix of career and business opportunities in a welcoming, safe and diverse environment. It's not overstating it to suggest Toronto is the perfect place to live and work if you're invested in living a healthy lifestyle. Marrying world-class health-related policies, a thriving arts and cultural scene, expansive culinary offerings, along with a lifestyle conscious design, the city offers an extraordinary setting for anyone seeking a healthy work-life balance.
And proof positive that Canada's largest city is not resting on its laurels, Toronto is aggressively securing its piece of the future with a burgeoning technology sector that is competing measure-for-measure with Silicon Valley and Seattle. The city snagged the number three spot on CBRE's Scoring Tech Talent Report, which ranks 50 U.S. and Canadian tech markets on 13 unique metrics to include talent supply, completed tech degrees and projected tech job growth.
It's estimated that a staggering 80,100 tech jobs have been created in Toronto since 2013, which is a 54 percent increase and represents the fastest pace of talent acquisition reported among the 50 high-performing U.S. and Canadian tech markets cited.
Efficiently-serviced, forward-thinking, safe and diverse, if Toronto's home you can proudly share that you live in one of the best cities in the world…again!
---
Locating a business in Toronto? Need a private or coworking office, or virtual office for your business? 
You can discover an exceptional coworking office experience at The Professional Centre (TPC), the Toronto coworking space where more is standard. If you'd like more information, call The Professional Centre today at 416-367-1055 or contact us.