Toronto Tech Boom: 2019 Snapshot

Toronto Tech Talent Snags #3 Spot in CBRE's Ranking
Confirming Toronto's rapid ascension from tech player to tech powerhouse, CBRE's 2019 Scoring Tech Talent report indicates the city has snagged the number 3 spot in CBRE's North American Tech Talent Ranking, coming in just behind tech juggernauts San Francisco Bay Area and Seattle.
TECH TALENT SCORECARD RANKING, 2019, CBRE RESEARCH
The score is based on 13 metrics that measure the market's depth, vitality and attractiveness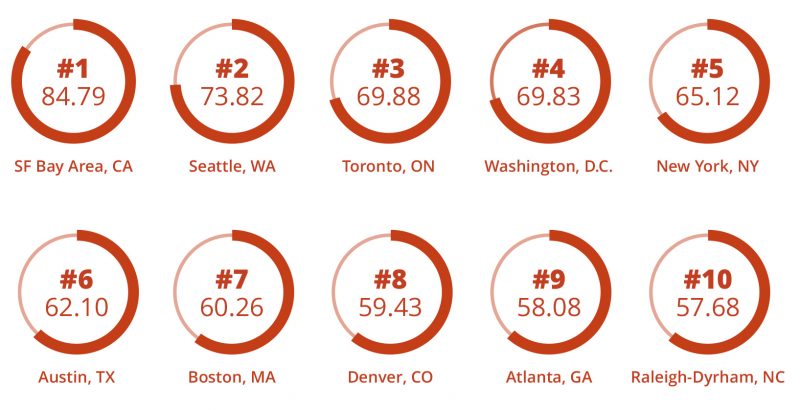 Toronto has added an astonishing 80,000 plus tech jobs, a 54% increase, over the past five years. Impressively, the city claims the fastest rate of growth out of all 50 markets tracked in the report. In fact, this solid showing reveals the number of tech jobs created in Toronto since 2013 is nearly equal to the number created in San Francisco Bay Area in the same span.
WHERE ARE TALENT WORKERS COMING FROM AND WHERE ARE THEY HEADED?
BRAIN DRAIN OR GAIN?
Source: Scoring Tech Talent, 2019, CBRE Research
Top 5 Brain Gain Markets
Toronto, ON
SF Bay Area, CA
Seattle, WA
Charlotte, NC
Vancouver, BC
Tech Degrees (2012-2017)
22,466
33,809
15,213
5,889
11,140
Tech Jobs Added (2013-2018)
80,100
88,500
30,680
18,070
22,300
Brain Gain
(Talent Added)
+57,634
+54,691
+15,467
+12,185
+11,160
Lowest 5 Brain Drain Markets
Chicago, IL
Phoenix, AZ
Los Angeles, CA
Boston, MA
Washington, DC
Tech Degrees (2012-2017)
30,471
24,404
41,453
37,717
49,060
Tech Jobs Added (2013-2018)
15,790
9,310
19,704
3,710
5,520
Brain Drain
(Talent Lost)
-14,681
-15,094
-21,749
-34,007
-43,540
---
Reinforcing the CBRE's 2019 rankings, recent media reports have detailed how Toronto, along with other Canadian cities such as Vancouver (#12), Montreal (#13) and Ottawa (#19) are currently attracting an extraordinary roster of technology jobs/investments. To illustrate, both Accenture and Amazon have announced plans to create 800 and 600 jobs, respectively, and Salesforce has committed to investing $2 billion in Canada over the coming five years. Additionally, technology powerhouses Uber, Netflix and Google are among the tech companies developing hubs or planning expansions in Toronto.
JLL Report: Toronto is One of the World's Most Innovative Cities
Toronto has established an enviable reputation internationally and has been polishing its status as a global player for some time. A recent report from JLL, a global provider/leader in real estate services, positions it amongst 10 "contenders" of the world's most innovative cities that are now nipping at the heels of the commonly-held "big seven" (London, New York, Paris, Singapore, Tokyo, Hong Kong and Seoul). The rankings are based, in part, on analysis of leading indices that measure cities' performance in key areas to include knowledge industries and innovation, human and social capital, infrastructure and repute.
The JLL report outlines the criteria that support a city's designation revealing "The contenders are also benchmarked against seven core characteristics that the top echelon of cities possesses. These measures include:
Corporate presence with a critical mass of corporate headquarters and global enterprises such as finance, professional services and media;
Gateway functions facilitating two-way movement of people, investment, trade, tourism and information;
Scale and size of market and populations to support agglomeration, growth opportunities and capital investment;
Infrastructure platform to connect and support firms, workers and visitors;
Diverse and skilled talent pools;
Specialization and innovation to produce and commercialize knowledge, products and services; and
An attractive global brand and identity that projects the city's core values."
As these metrics support the growth of the tech sector in any individual centre, Toronto's strong showing is not surprising in that it performs well in each category.
The city's evolution, that has fueled its transformation into one of the world's fastest-growing destinations for technology jobs, is the result of strategically leveraging early investments in artificial intelligence (AI) and importantly, the decades-old funding of basic research at Canadian universities that led to the breakthrough for machine-learning technologies. Small-part luck and large-part foresight, both are now hotbed technologies that are currently in extraordinarily high demand.
As well, the Canadian government's support for technology development — with programs funding R&D, commercialization of projects and other resources available to underwrite innovation — along with, perhaps most significantly, a Canadian immigration policy that welcomes high-skilled workers, i.e. technology talent, sees Toronto well-positioned to become Silicon Valley North.
"Toronto, San Francisco and Seattle are comfortably mentioned in the same sentence and are attracting the best in the industry."
Even in a diverse and dynamic city such as Toronto, the growing impact of the tech sector is dramatic and measurable. "Tech job growth has a multiplier effect in the economy and the influence of tech is re-shaping virtually every sector of real estate," said CBRE Canada Vice Chairman Paul Morassutti. "Toronto, San Francisco and Seattle are comfortably mentioned in the same sentence and are attracting the best in the industry."
Six Important Stats for Toronto
What happens when you get a city with a thriving start-up scene, world-class higher education, over 120 research institutions, a large pool of home-grown talent coupled with a diverse brain gain, a tidal flow of international capital, a strong infrastructure, and a global liveability score that ranks in the top 10?
It's time to declare Toronto an established tech giant. Here are six important statistics that support the title:
#1


in highest tech brain gain in North America
#1


in largest growth momentum in tech labour pool in North America
#3


in North America for overall tech talent ranking
#7


in the world for liveability
#4


in North America for the dollar value of VC financings (Ontario)
#2


of "contenders" of the world's most innovative cities
---
At a time when high-tech work can be done anywhere, anytime, 24/7 and even globally, today's ideal office space is a flexible environment that is supported by the latest technology and allows workers to connect and collaborate with like-minded professionals in accommodating shared spaces. As Toronto continues to evolve as a tech hub, shared workspaces equipped with a range of equipment and amenities is a chance to be part of something significant. If you'd like more information on how our shared office space can work for you, call The Professional Centre today at 416-367-1055 or contact us.