BOOK A TOUR
SHARED OFFICE AT
120 ADELAIDE ST W
TORONTO, 24TH FLOOR
Prestigious building
LEED Gold Certified building
Steps from Bay Street
In Toronto's Financial District
Part of Richmond-Adelaide Centre
Direct access to PATH system
400+ seat food court below, and
55,000+ square feet of retail space
Multi-level underground parking
On public transit surface route
Steps to the subway
Minutes from Union & GO Station
Professional shared office space for lease in downtown Toronto
120 Adelaide Street W, 24th floor
Set to a backdrop of elegant design and premium hospitality, this is your opportunity to experience the next generation of professional shared office space in downtown Toronto.
A VIBRANT PROFESSIONAL COMMUNITY
At TPC, you become part of a thriving community made up of inspiring professionals from all sectors. Either at one of our networking events or in our exclusive business lounge, the opportunities to exchange ideas and nourish relationships are one of the many benefits of joining TPC.
ELEGANCE AND FLEXIBILITY
Our elegant mix of sun-filled private and team offices, coworking and breakout areas, conference rooms and collaboration zones – are all meticulously designed to provide the ideal turnkey environment for your comfort and productivity. And, with flexibility built right in, you can scale up or down as your business requirements change.
PREMIUM HOSPITALITY
TPC provides the supportive environment that you'll love coming to work for. From reception to phone support, to an exclusive range of first-class amenities and more, we are committed to both your workplace needs and your well being.
TOUR OUR OFFICE
Tours of our new downtown Toronto coworking office are now available.
Call us at 416 367-1055 or fill out the form below.
---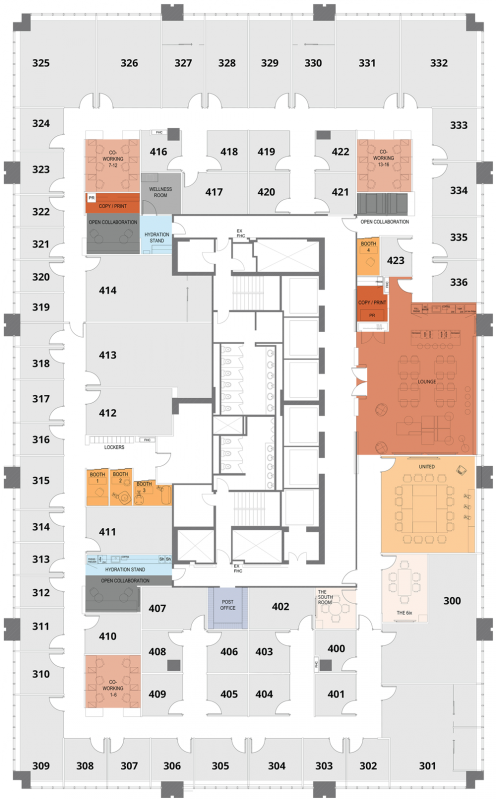 An elegantly designed mix of private and team offices, coworking and common areas, conference rooms, and collaboration areas — all designed with exceptional attention to detail for your comfort and productivity.
or call us at 416 367-1055
New location highlights:
ELEGANT AND FUNCTIONAL OFFICES
A private office for one, or a large team room for 15 — our glass fronted, modern, bright and fully-equipped rental offices are the ideal turnkey solution and the optimum environment to help your business succeed and grow.
---
HOT DESKING AND COWORKING
Whatever way works for you — our new space offers flexible workspace and desk solutions that are functional, comfortable and affordable. Get all the benefits of a high-end work environment while budgeting for growth.
---
OPEN CONCEPT COLLABORATION ZONES
Three modern and functional areas for more ways to work, socialize and network.
---
BUSINESS LOUNGE AND KITCHEN
Our spacious lounge is a fantastic place to network, enjoy a bite to eat or simply relax. Not feeling inspired in your office? Bring your laptop, pull up a chair and get your work mojo back! Our lounge is accessible 24-7 to all executive office clients. Our lounge will also host exclusive networking events, seminars, training and more. Or, book it for your own private functions. It is available after-hours for your convenience.
---
SUN-FILLED BOARDROOM
Glass-fronted and a generously-sized boardroom that converts into a training room with all the A/V and conference equipment you require.
---
MEETING ROOMS
The choice of two smaller fully-appointed meeting rooms to suit your needs… and of course, all the A/V equipment that you require.
---
WELLNESS ROOM
When you need to put the wellness back in your workplace.
---
PRIVATE PHONE BOOTHS
Smart space to talk in private or for some 'inner peace' time.
---
HYDRATION ZONES
Drink freshly brewed coffee, specialty teas and healthy infused waters… without leaving the office.
ABOUT US
TPC has been providing professionals with office space solutions in downtown Toronto since 1987. From private office suites, team office suites and coworking, to high-quality virtual offices, meeting rooms, mailboxes and administrative support, we provide the ideal corporate workspace environment. More
LEASE TERMS AND RATES
Whether you require a single or multiple office suites, TPC will provide you with a fully customized work-ready environment and a lease term that gives you maximum flexibility. Get in touch with us to enquire about our rates or to get a custom quote. Contact Us
ADMINISTRATIVE SUPPORT
What sets TPC apart from other business centre environments is our focus on corporate clientele along with the premium service we provide. Since 1987, we've been helping our clients succeed, resulting in long-term client satisfaction and countless referrals. More